The Online Film Critics Society is comprised of internet-based film critics located around the world. As of August 31, 2014, our membership stands at 275. We have writers from 18 countries around the world. Below you will find links to pages about each of our members and at the bottom of the page are a series of maps showing our members' worldly locations.
2015 Governing Committee
To reach the Governing Committee, feel free to e-mail us here.
John Hanlon
Wesley Lovell
Cole Smithey
— A —
Simon Abrams
Beth Accomando
Marco Albanese
Mario Alegre
Dragan Antulov
Marina Antunes
Rick Aragon
José Arce
Eric M. Armstrong
Pedro Artigao
Sean Axmaker
— B —
Alan Bacchus
Jason Bailey
Danny Baldwin
Chris Barsanti
Adam Batty
David Bax
Nicholas Bell
James Berardinelli
William Bibbiani
Steve Biodrowski
Anton Bitel
Matthew Blevins
Luke Bonanno
Sarah Boslaugh
Christopher Bourne
Chuck Bowen
Mike Bracken
Timothy Brayton
Simon Brew
Patrick Bromley
Matt Brown
Joshua Brunsting
Frederic Brussat
Mary Ann Brussat
Enrique Buchichio
Sarah D. Bunting
— C —
Chris Cabin
Peter Canavese
Daniel Carlson
Kevin Carr
Stephen Carty
Robert Cashill
Samuel Castro
Jesse Cataldo
Bill Chambers
Edgar Chaput
Walter Chaw
Erik Childress
Jaime N. Christley
Bill Clark
Laura Clifford
Robin Clifford
Tom Clift
Rich Cline
Jake Cole
Philip Concannon
Pierce Conran
Ryan Cracknell
Fernando F. Croce
Andy Crump
— D —
Ricky Da Conceicao
Edwin Davies
David A Dayoub
Carlos del Rio
Michael Dequina
Jim Dixon
Billy Donnelly
Xavier Donoso
M. Enois Duarte
Mark Dujsik
Glenn Dunks
— E —
James Jay Edwards
David Ehrlich
Kate Erbland
Glenn Erickson
Mike Everleth
— F —
Marilyn Ferdinand
Joao Marcos Flores
Tyler Foster
Sam Fragoso
Candice Frederick
Dustin Freeley
Cynthia Fuchs
Kenji Fujishima
— G —
Kimberly Gadette
Stuart Galbraith IV
Brett Gallman
Patrick Gamble
Bill Gibron
Kathy Gibson
John Gilpatrick
Noah Gittell
Panagiotis (Takis) Gkaris
Leo Goldsmith
Rob Gonsalves
Ed Gonzalez
Sarah Gopaul
Jason Gorber
William Graham
Susan Granger
Ali Gray
Daniel Green
Steven D. Greydanus
Vadim Grigoriev
Michael E. Grost
— H —
Adam Hakari
Phil Hall
John Hanlon
Mark Harris
Margot Harrison
Nick Hartel
Jesse Hassenger
Roderick Heath
Glenn Heath Jr.
Jeremy Heilman
Eric Henderson
Jordan Hiller
Mark Hobin
Brian Holcomb
Shannon Hood
Travis Hopson
Blake Howard
Simon Howell
Robert Humanick
Rob Hunter
Josh Hurtado
— J —
Dustin Jansick
Dan Jardine
MaryAnn Johanson
David Johnson
Jim Judy
Brian Juergens
Charlie Juhl
— K —
Daniel Kelly
Ben Kendrick
James Kendrick
Craig Kennedy
Jennie Kermode
Jeremy Kibler
Danny King
Stacia Kissick Jones
Eric Kohn
Oktay Ege Kozak
Benjamin Kramer
Kristin Dreyer Kramer
— L —
Daniel Lackey
Josh Larsen
Kamal Larsuel
Mark Leeper
Laremy Legel
Donald Levit
Emanuel Levy
Don R. Lewis
Justin Li
Mathieu Li-Goyette
Christopher Long
Matt Looker
Kristen Lopez
Glenn Lovell
Wesley Lovell
Joe Lozito
Matthew Lucas
Carson Lund
Dan Lybarger
— M —
James Madden
Marty Mapes
Piers Marchant
Calum Marsh
James Marsh
Alan Mattli
Paul Mavis
John P. McCarthy
Maitland McDonagh
Mike McGranaghan
Matthew McKernan
Jason McKiernan
Brent McKnight
Ryan McNeil
Amanda Mae Meyncke
Ross Miller
Nell Minow
Simon Miraudo
Jana Monji
Darren Mooney
Wilson Morales
Kenneth R. Morefield
Patrick Mullen
— N —
Peter Nellhaus
Christopher Null
David Nusair
Scott Nye
— O —
James O'Ehley
Frank Ochieng
Brian Orndorf
R. Kurt Osenlund
— P —
Stefan Pape
Michael Pattison
Paulo Peralta
Locke Peterseim
Mark Pfeiffer
Aaron Pinkston
João Pinto
Jason Pirodsky
James Plath
Nick Prigge
Joseph Proimakis
Clark Provence
Kristy Puchko
Dustin Putman
— Q —
— R —
Josh Ralske
Tiago Ramos
Kevin A. Ranson
Aiden Redmond
Nuno Reis
Jamie S Rich
Jonathan Richards
Jordan Richardson
Francis Rizzo III
José Manuel Robado
Jerry Roberts
Robert Roten
— S —
Stephen Saito
Márcio Sallem
Tom Santilli
Nick Schager
Norm Schrager
Paul Schrodt
Dennis Schwartz
Stephen Silver
Don Simpson
Matt Singer
Amir Siregar
Craig Skinner
Gregory J. Smalley
Jordan M. Smith
Cole Smithey
Jose Solis
Dusty Somers
Matthew Sorrento
Josh Spiegel
Thomas Spurlin
Henry Stewart
Frank Swietek
— T —
Matthew Thrift
Betty Jo Tucker
Kent Turner
Sam Turner
— U —
Keith Uhlich
David William Upton
— V —
Mel Valentin
Boyd van hoeij
Jean-François Vandeuren
Felix Vasquez jr.
Robert Vaux
Pablo Villaça
Phil Villarreal
Yaroslav Vishtalyuk
Peter Vonder Haar
Kim Voynar
— W —
Sarah Ward
S. James Wegg
Scott Weinberg
Ed Whitfield
Budd Wilkins
Amber Wilkinson
Ron Wilkinson
William Wolf
Andrew Wyatt
— Z —
George Zervopoulos
Jason Zingale

As you can see, we have members on every continent except Antarctica (Last Updated: August 2014)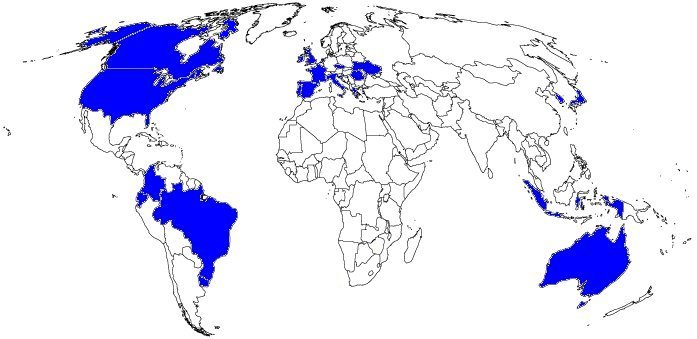 The majority of our members write from Canada, the United States and the United Kingdom. We have members in 33 U.S. states, 3 Canadian provinces and 3 countries in the United Kingdom (England, Scotland and Northern Ireland)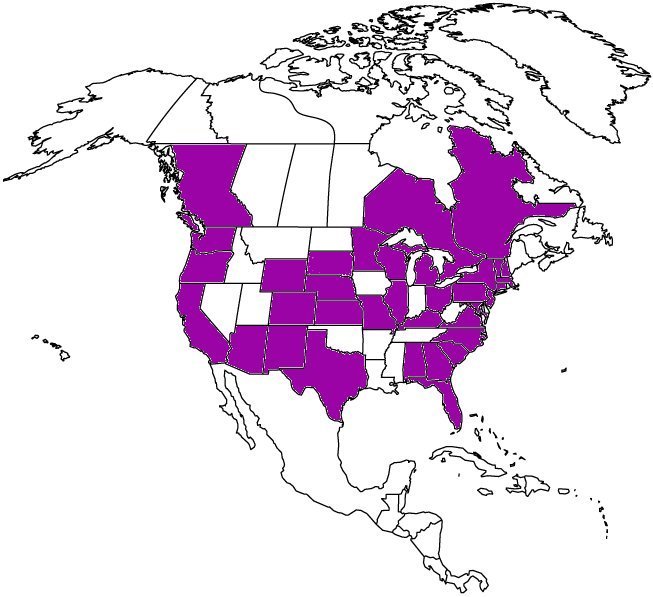 We have representatives from twelve countries in Europe.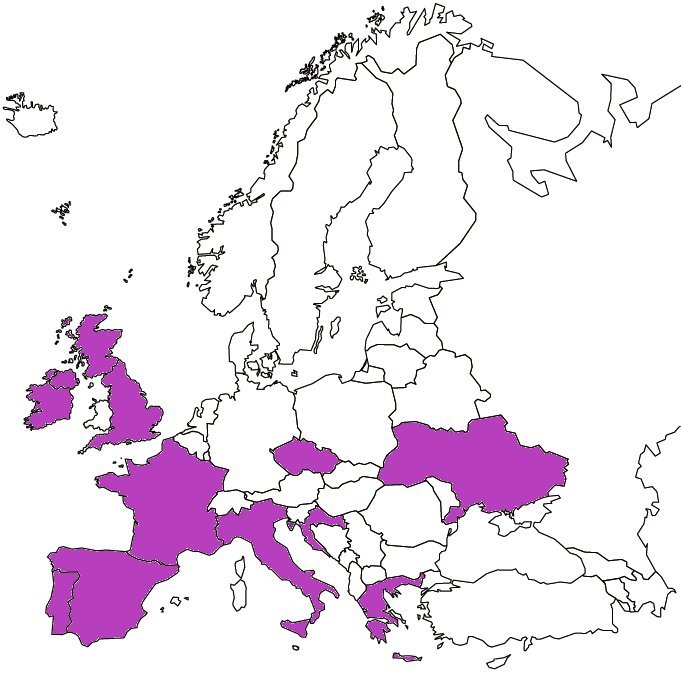 Our South American contingent represents four countries.

We also have members from Asia (Japan and Indonesia) as well as Australia and South Africa.